New
Estimating Manager
Kingsport TN
Sector: General Industrial Construction
Category: Construction, Industrial Construction, Estimating, Management
Estimating Manager
Client Benefits


Medical, dental, and vision insurance with company premium contribution

Company paid basic life insurance, long-term disability, and three Employee Assistance Programs [EAP]

Voluntary [employee paid] short-term disability, additional life insurance, and AFLAC

401K retirement plan with employer matching funds

Flexible Spending Accounts and Health Savings Accounts available

Paid holidays and PTO

Paid continued education, licensing, and certification.
What You Will Be Doing
The Estimating Manager is a key member of the estimating team and assumes overall responsibility for creating accurate budgets, estimates, and detailed scopes of work, along with other proposal components. The Estimating Manager oversees the estimating process, implements standardized procedures and methods, and manages the estimating team. The primary objective of this role is to successfully complete construction estimates that lead to awarded construction projects. The Estimating Manager reports to the Vice President of Operations and is based in the Kingsport, TN office.
The Ideal Candidate
Prepare accurate estimates with detailed pricing, including labor, materials, and subcontract items. Ability to create self-perform estimates with hard take-offs from drawings.

Lead the team in creating proposals and bids.

Develop detailed bid scopes for subcontractor packages.

Review subcontractor submittals.

Research and review construction and design documents, and analyze specifications to determine estimated costs.

Prepare quantity take-offs and estimate costs of materials, labor, equipment, and temporary facilities required for contract fulfillment.

Analyze historical cost data to estimate project costs.

Manage and track multiple preconstruction/estimating projects concurrently.

Develop cost estimates for change orders.

Attend pre-bid meetings, site tours, and post-bid interviews as required.

Maintain a directory of suppliers, contractors, and subcontractors.

Stay updated on market conditions, vendor/supplier pricing, and construction industry trends.

Manage, support, and assist in training the estimating staff.

Assign responsibilities to the estimating team for each project.

Review project plans and specifications and coordinate with the team to ensure complete scope understanding.

Oversee the collection of vital information for cost estimates to optimize services efficiently.

Ensure project information flow is maintained and documented.

Analyze bid documents, assess opportunities and risks, and effectively communicate them to management.
Other Essential Functions
Minimum of 10 years of estimator/industry experience in industrial construction projects, specifically in areas such as Chemical, Pulp & Paper, or Heavy Industrial.

Experience with ground-up construction projects.

Expertise in one or more areas of industrial construction.

Proficiency in MS Office Suite, with advanced knowledge of Excel.

Experience with software such as Bluebeam, Timberline, or other estimating software.

Ability to read, understand, and organize construction plans, drawings, scopes of work, and specifications.

Capable of independently managing projects from document receipt to rough estimate review (project size ranging from $100k to $100 million).

Ability to complete complex competitive bid projects.

Ability to break down construction operations into a logical sequence of activities.

Knowledge of buyout processes, including scopes of work, cost comparison, and procurement means/methods.

Familiarity with mechanical and electrical systems and their associated costs.

Efficient management of bid/RFP response processes.

Strong mathematical skills.

Detail-oriented, collaborative, with a sense of urgency and a "can do" attitude.

Excellent written and verbal interpersonal communication skills.

Strong critical thinking, analytical, and organizational abilities.

Ability to multitask and manage time effectively.

Valid driver's license and means of transportation.

Background check required.
Preferences:
Certification of Professional Estimators from the American Society of Professional Estimators or a related certification.

Strong network of subcontractors.

Bachelor's Degree in Construction Management, Civil Engineering, or a related discipline.

Preferred experience with chemical plants.

Proficiency in P6 or Microsoft Projects software.
FLSA CLASSIFICATION – EXEMPT: SALARIED | LOCATION: KINGSPORT, TN |PIVOT WORKFORCE LLC.
---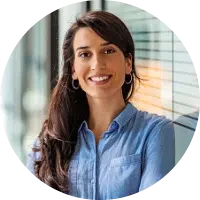 With a background in psychology, I am a proud member of Team Europe, finding the right fit for my clients and the most exciting job opportunities for my candidates!