New
HVAC Controls Programmer
High Point NC
Sector: Construction/Engineering
Category:
HVAC Controls Programmer
Medical – Dental – Vision – 401K w/Match – Paid Holidays – Paid Time Off
Responsible for designing, programming, and maintaining the control systems used in heating, ventilation, and air conditioning (HVAC) systems. They work closely with engineers, technicians, and building automation teams to ensure efficient and effective operation of HVAC systems. Their role involves developing and implementing control strategies, configuring control devices, troubleshooting system issues, and optimizing energy management. Some travel may be required.
Responsibilities
Technical Expertise: An HVAC Controls programmer should have a strong understanding of HVAC systems, controls, automation technologies, sequence of operations and understand P & ID drawings.

Programming Skills: Proficiency in programming and configuring control devices, such as programmable logic controllers (PLCs), direct digital controllers (DDCs), and building automation systems (BAS), is essential.

HVAC Knowledge: A solid understanding of HVAC principles, equipment, and system components is crucial. This includes knowledge of air handling units, chillers, boilers, pumps, variable frequency drives (VFDs), and other HVAC-related devices.

Building Automation Systems: Familiarity with building automation systems and their integration with HVAC controls is important. Experience with platforms like Niagara, Tridium, Distech or Honeywell's EBI (Enterprise Building Integrator) can be beneficial.

Problem-Solving Abilities: HVAC Controls programmers should have strong analytical and troubleshooting skills to identify and resolve control system issues effectively.

Communication and Collaboration: Good communication skills are essential, as HVAC Controls programmers often work in multidisciplinary teams.

Attention to Detail: Precision and attention to detail are vital in programming control systems.
Qualifications
A Controls Programmer is a skilled professional responsible for installing, maintaining, and troubleshooting heating, ventilation, air conditioning, and controls systems. Qualifications for this role typically include:
Education: A high school diploma or equivalent experience is required, while Bachelor's Degree in Mechanical Engineering is a plus.

Technical Knowledge: Strong knowledge of HVAC systems, including principles of heating, cooling, air distribution, and controls.

Certifications: Relevant certifications such as EPA 608 certification for handling refrigerants and industry-specific credentials like HVAC Excellence.

Experience: At least 2-3 years of experience in HVAC Controls installation, maintenance, or controls work is beneficial.
---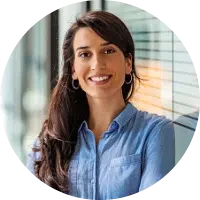 With a background in psychology, I am a proud member of Team Europe, finding the right fit for my clients and the most exciting job opportunities for my candidates!