Mfg Structural Superintendent
New
Mfg Structural Superintendent
High Point NC
Sector: Mechanical Contractor
Category:
Manufacturing Structural Superintendent
CLIENT BENEFITS
Medical, Dental, Vision 401K with Match – Paid Time Off – Paid Holidays
Overview:



As a Manufacturing Structural Superintendent, you will be responsible for overseeing and coordinating the structural aspects of manufacturing operations within a facility. You will ensure the safe and efficient production of structural components, supervise a team of workers, and collaborate with various departments to meet production targets and quality standards. Your role will involve managing schedules, implementing safety protocols, optimizing processes, and maintaining a high level of productivity and quality within the manufacturing operation.
Key Responsibilities:
Supervise Manufacturing Operations: Lead a team of workers involved in manufacturing structural components. Provide guidance, support, and direction to ensure smooth operations, adherence to production schedules, and achievement of quality standards.
Safety and Compliance: Implement and enforce safety protocols, regulations, and compliance requirements to ensure a safe working environment for all employees. Conduct regular safety inspections, identify potential hazards, and promote a safety-first culture within the manufacturing operation.
Process Optimization: Identify areas for process improvement, efficiency enhancement, and cost reduction. Develop and implement strategies to streamline manufacturing processes, reduce waste, and increase productivity without compromising quality.
Quality Control: Monitor and enforce quality control procedures to ensure the production of high-quality structural components. Implement quality assurance measures, perform inspections, and address any deviations or non-conformities promptly.
Team Management: Recruit, train, and mentor manufacturing personnel. Set performance expectations, conduct regular performance evaluations, and provide coaching and feedback to support the professional growth and development of team members.
Collaboration and Communication: Collaborate with cross-functional teams, such as engineering, procurement, maintenance, and logistics, to ensure smooth coordination of activities. Communicate effectively with stakeholders, provide progress updates, and address any issues or concerns that may impact production.
Equipment and Resource Management: Oversee the maintenance, repair, and utilization of manufacturing equipment and resources. Coordinate with the maintenance team to ensure equipment availability, minimize downtime, and optimize equipment performance.
Documentation and Reporting: Maintain accurate documentation related to production activities, safety records, quality control, and personnel management. Prepare reports on production performance, resource utilization, and any other relevant metrics as required by management.
Qualifications and Skills:
Previous experience in a manufacturing supervisory role, particularly in structural manufacturing.

Strong knowledge of structural manufacturing processes, techniques, and materials.

Proven track record in managing manufacturing operations, optimizing processes, and achieving production targets.

Familiarity with safety regulations and compliance requirements in a manufacturing environment.

Excellent leadership and interpersonal skills with the ability to motivate and inspire a diverse team.

Strong problem-solving and decision-making abilities.

Effective communication skills, both verbal and written.

Proficiency in using manufacturing software, quality control tools, and Microsoft Office applications.

Attention to detail and a commitment to producing high-quality work.
---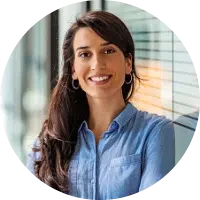 With a background in psychology, I am a proud member of Team Europe, finding the right fit for my clients and the most exciting job opportunities for my candidates!