Service Sales Representative
New
Service Sales Representative
Charlotte NC
Sector:
Category:
Service Sales Representative
Client Benefits

Medical

Dental

Vision

401K with % match

Life Insurance

PTO

Accidental death insurance

Short term disability

Long term disability

Company Vehicle

Career development and recognition
What You Will Be Doing
We are seeking a proactive and results-driven Service Sales Representative to join our team. As a Service Sales Representative, you will be responsible for promoting and selling our company's services to prospective customers. Your main focus will be on building strong relationships with clients, identifying their needs, and offering tailored solutions that address their unique requirements. This role requires excellent communication skills, a customer-centric approach, and a drive to meet and exceed sales targets.
The Ideal Candidate
Develop and execute strategic sales plans to identify and reach out to potential customers for our services.

Conduct thorough needs assessments with clients to understand their requirements and challenges, offering suitable service packages and solutions.

Acquire and maintain in-depth knowledge of our company's services, features, benefits, and competitive advantages to effectively communicate value propositions to customers.

Prepare detailed and accurate service quotes and proposals based on customer specifications, ensuring alignment with their needs.

Build and nurture strong relationships with both existing and potential customers, providing exceptional customer service and acting as a trusted advisor.

Stay up-to-date with industry trends, customer preferences, and competitor offerings to adapt sales strategies and identify new business opportunities.

Skillfully negotiate terms, conditions, and pricing with customers to close deals and secure contracts.

Maintain organized records of sales activities, customer interactions, and deal progress using CRM software, and provide regular sales reports to management.

Collaborate with cross-functional teams, including customer support, technical experts, and management, to ensure smooth service delivery and customer satisfaction.

Meet and exceed individual and team sales targets set by the company.
Other Essential Functions
Minimum of 5 years of experience proven experience in sales, preferably in a service-oriented industry.

Excellent communication and interpersonal skills, with the ability to connect with customers and understand their needs effectively.

Strong negotiation skills and the ability to handle objections and challenges with professionalism and persistence.

Self-motivated, goal-oriented, and capable of working both independently and as part of a team.

Proficiency in using CRM software and other sales tools for lead management and reporting.

A positive attitude, adaptability, and a strong work ethic.
FLSA CLASSIFICATION –EXEMPT: SALARY | LOCATION: CHARLOTTE, NC |PIVOT WORKFORCE LLC.
---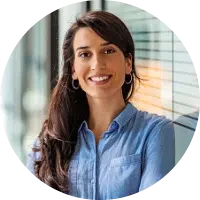 With a background in psychology, I am a proud member of Team Europe, finding the right fit for my clients and the most exciting job opportunities for my candidates!