New
Project Facilitator
Grand Rapids MI
Sector: Mechanical Contractor
Category: Mechanical, HVAC, Construction, Service
PROJECT FACILITATOR
LOCATION: GRAND RAPIDS, MI
BENEFITS

Medical

Dental

Vision

Prescription (included within the medical plan)

401(k) Plan with multiple investment options

Basic life insurance – company paid

Basic accidental death & dismemberment (AD&D) – company paid

Employee Assistance Program (EAP) – company paid

Short term disability (STD) – after 1 year of employment – company paid

Paid Holidays – 7 days

Paid Vacation

Paid time off (PTO)
THE IDEAL CANDIDATE
Provide comprehensive office and job support to our Project Management team.

Efficiently issue purchase orders, manage material and equipment purchases.

Oversee job OCIP/CCIP, MWBE requirements, bonds, and document control.

Streamline the process of pulling building permits and requesting inspections.

Expertly manage subcontractor agreements and the subsequent work agreements.

Accurately process monthly progress billings using our specialized software and AIA Documents.

Code invoices for payment swiftly and accurately.

Collaborate with the project management team to track various projects from initiation to completion.

Gain in-depth knowledge of the technical systems' materials, equipment, and components.

Skillfully compose and edit letters, memos, reports, and procedures as directed.

Assist in assembling and processing various day-to-day administrative items, such as expense reports, supply requisitions, RFI's, submittals, shop drawings, procurement, quantity take-offs, etc., following supervisor's guidance.

Prepare special reports, studies, and statistical analyses as requested by the supervisor, which may involve research, development, and interpretation of data with minimal supervision.

Coordinate meetings effectively, including setting up conference room and teleconferencing arrangements.

Create and modify documents using MS Word and Excel and develop compelling presentations using PowerPoint.

Establish and maintain an organized filing system.

Perform general clerical duties, including taking meeting minutes, copying, faxing, sorting, binding, managing supplies inventory, and handling miscellaneous errands.
OTHER ESSENTIAL FUNCTIONS
High school degree or equivalent, with a preference for 1-2 years of business school/clerical training.

3-5 years of proven support/experience in the construction industry.

Familiarity with office routines and business protocol.

Experience in billing, construction terms, paperwork, and processes.

Working knowledge of reporting and billing needs in the construction industry.

Familiarity with documentation, systems, and management procedures in the construction industry.

Strong computer skills and effective MS Office proficiency.

Exceptional written and verbal communication, interpersonal, and organizational skills.

Familiarity with office equipment, including copiers, fax machines, scanners, printers, multi-line phone systems, calculators, and adding machines.
---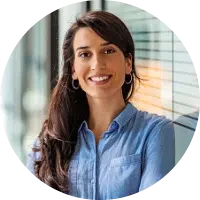 With a background in psychology, I am a proud member of Team Europe, finding the right fit for my clients and the most exciting job opportunities for my candidates!