Accounts Payable/Accounts Receivable Specialist
New
Accounts Payable/Accounts Receivable Specialist
Fort Worth TX
Sector: General Construction
Category: Accounts Payable, account receivable, Financial Reporting, Documentation and Compliance, Cross-Functional Collaboration
Accounts Payable/Accounts Receivable Specialist
Location: Dallas-Fort Worth, TX
About Us:
Our client is a leading construction company dedicated to delivering high-quality projects that Commercial Construction and Services. With a commitment to excellence and a history of success spanning over 30 years, we are seeking a detail-oriented and experienced Accounts Payable/Accounts Receivable Specialist to join our dynamic finance team.
Job Description:
We are looking for a skilled and motivated Accounts Payable/Accounts Receivable Specialist to manage financial transactions for our construction projects. The ideal candidate will play a crucial role in ensuring the smooth flow of financial operations, maintaining accurate records, and contributing to the overall financial success of the company.
Responsibilities:
Accounts Payable:
Review and verify invoices, purchase orders, and payment requests for accuracy.

Prepare and process payments to vendors, subcontractors, and suppliers in a timely manner.

Reconcile discrepancies and resolve issues with vendors and internal departments.

Maintain accurate and up-to-date accounts payable records.

Assist in the development and implementation of cost control procedures.
Accounts Receivable:
Generate and send invoices to clients in accordance with project milestones and contract terms.

Monitor accounts receivable aging reports and follow up on overdue payments.

Communicate with clients to resolve billing discrepancies and payment issues.

Record all cash receipts and apply them accurately to customer accounts.

Collaborate with project managers and sales teams to ensure accurate and timely invoicing.
Financial Reporting:
Prepare monthly, quarterly, and annual financial reports related to accounts payable and accounts receivable.

Maintain and update financial spreadsheets and databases.

Assist in the preparation of financial statements and budget reports.
Documentation and Compliance:
Maintain organized and complete financial records and documentation.

Ensure compliance with company policies and industry regulations.

Assist with audits and provide necessary documentation as requested.
Cross-functional Collaboration:
Collaborate with other finance team members and departments to resolve financial issues and improve processes.

Provide support during financial forecasting and budgeting processes.
Qualifications:
Bachelor's degree in Accounting, Finance, or a related field (preferred).

Proven experience in accounts payable and accounts receivable roles, preferably in the construction industry.

Proficiency in accounting software (e.g., QuickBooks, Sage) and Microsoft Office Suite.

Strong attention to detail and accuracy.

Excellent communication and interpersonal skills.

Ability to work independently and meet deadlines.

Knowledge of construction project billing and payment processes is a plus.

Understanding of relevant accounting principles and regulations.
We offer a competitive salary, benefits package, and opportunities for professional growth within our organization.
Our client is an equal opportunity employer. We celebrate diversity and are committed to creating an inclusive environment for all employees.
---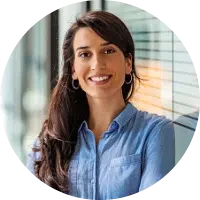 With a background in psychology, I am a proud member of Team Europe, finding the right fit for my clients and the most exciting job opportunities for my candidates!