New
Recruiter
Richmond VA
Sector: Mechanical Contractor
Category: Direct Placement Recruiter
Job Title: Construction Recruiter – Office and Craft Positions (Hybrid) (Virginia)
CLIENT BENEFITS: Medical, Dental, Vision, PTO, Paid Holiday, 401K w/ Match

Overview:

Are you a skilled Construction recruiter with a proven track record of identifying top talent in the electrical, office, and craft sectors? If so, we have an exciting opportunity for you. We are seeking a motivated and experienced Recruiter. In this role, you will leverage your expertise to source, engage, and hire exceptional candidates across various roles, including office staff and craft professionals. Your ability to understand the unique requirements of these roles and connect with candidates will be instrumental in your continued success.
Key Responsibilities:
Candidate Sourcing: Utilize your network and recruiting tools to source high-caliber candidates for electrical, office, and craft positions.
Candidate Engagement: Build and maintain relationships with candidates, providing a positive candidate experience throughout the recruitment process.
Assessment and Screening: Evaluate candidate qualifications, conduct interviews, and assess their suitability for specific roles.
Position-Specific Expertise: Demonstrate a deep understanding of the requirements for electrical, office, and craft positions, tailoring your recruitment approach accordingly.
Talent Pipeline: Develop and maintain a robust talent pipeline for current and future hiring needs.
Collaboration: Partner closely with hiring managers and team members to align recruitment efforts with organizational goals.
Market Research: Stay current with industry trends, salary benchmarks, and competitor insights to inform recruitment strategies.
Qualifications and Skills:
Recruiting Experience: Proven experience in recruiting electrical candidates, office staff, and craft professionals is essential.
Industry Knowledge: Familiarity with office, electrical and craft sectors within the construction industry.
Candidate Assessment: Proficiency in candidate evaluation, interview techniques, and candidate screening.
Communication Skills: Excellent written and verbal communication skills for candidate engagement and collaboration with hiring teams.
Networking: Strong professional network within the electrical and craft industries.
Adaptability: Ability to adapt to changing recruitment needs and priorities.
Results-Driven: Track record of meeting recruitment goals and delivering quality hires.
---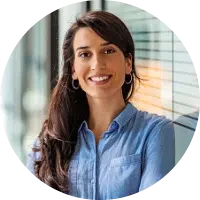 With a background in psychology, I am a proud member of Team Europe, finding the right fit for my clients and the most exciting job opportunities for my candidates!