Building Automation Service Specialist
New
Building Automation Service Specialist
Sector: Mechanical Contractor
Category: Commercial/Industrial
Building Automation Service Specialist
Client Benefits
401(k)

401(k) matching

Dental insurance

Disability insurance

Employee assistance program

Flexible spending account

Health insurance

Life insurance

Paid time off

Vision insurance

Performance Bonus and Profit Sharing

Company Vehicle/Gas Card
What You Will Be Doing
Our client is the premier HVAC Construction, Service, and Building Automation provider in West Michigan. The Building Automation Service Specialist performs remote diagnostics, preventive maintenance, repairs, installations, and commissioning of building automation control systems. This person is accountable for ensuring high customer satisfaction levels through direct, onsite client interaction.
The Ideal Candidate
Regularly communicates with customers to ensure high levels of customer satisfaction.

Communicates outstanding issues and recommends system enhancements, upgrades, and/or repairs through the field quotes system. Is observant of additional opportunities we may have to solve issues. Actively participates with the service manager to engineer and estimate solutions.

Performs system maintenance in accordance with established service practices and direction, including field controllers, servers, workstations, and field hardware. Maintains feedback on equipment scheduling and modifications needed to service account manager.

Reports issues or changes to management immediately in accordance with company policy and practices. Interfaces with the service manager to coordinate activities as required in a professional manner.

Performs diagnostics and repairs on complex control systems. Has knowledge of a variety of electronic or digital control systems and the ability to test and write modifications in multiple languages of system software.

Provides training to customers on their specific control systems operations. Delivers documentation to the customer for training as needed or as contractual obligation requires.

Works with the customer's mechanical service provider to aid in equipment diagnostics when required.
Other Essential Functions
High School Diploma or GED

5+ years of Building Automation Controls Experience

Must maintain a valid and current Driver's License and be insurable by the company's insurance carrier.

Ability to travel up to 50% of the typical workweek, including air travel, overnight hotel stays, and unexpected travel.

Participate in a rotating on-call schedule.
FLSA CLASSIFICATION – NON-EXEMPT: HOURLY | LOCATION: GRAND RAPIDS, MI |PIVOT WORKFORCE LLC.
---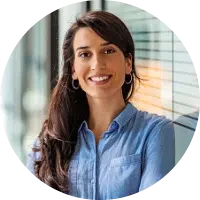 With a background in psychology, I am a proud member of Team Europe, finding the right fit for my clients and the most exciting job opportunities for my candidates!